Description
Enovap is the first smart, intuitive and connected electronic cigarette that helps you take control on your consumption
Enovap is a personal and elegant solution to help smokers and vapers kepp control on their consumption. Discover Hit-Control and select you instant prefered concentration at each time of the day !
This is made possible with the use of a patented double tank technology :
- The first tank contains a high nicotine concentration (below 20 mg/mL)
- The second contains a lower nicotine concentration (It can be 0 mg.mL)
Enovap offers you a more health oriented approche of the electronic cigarette technology.
They reward Enovap

They talked about Enovap

Enovap's use
Manual mode
You are free to select your nicotine concentration from 0 mg/mL to 20mg/mL for each puff. The technology is equipped of a secure system that automatically detects the minimum and maximum power range for your coil(Compatible with Kangertech OCC & SOCC coils in 0.5 – 1.5 or 1.8 Ohms).
This innovative technology helps you monitor your nicotine intake all day long. Adapt it to your needs!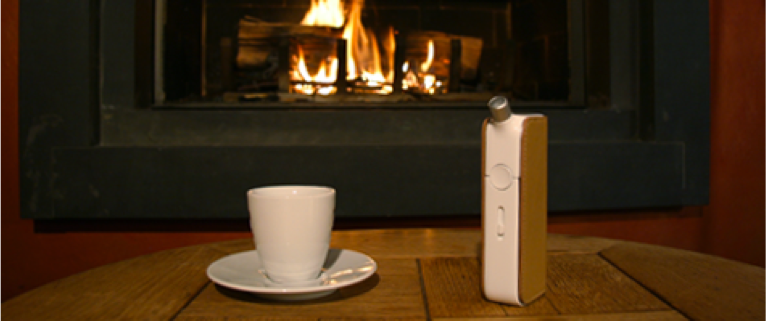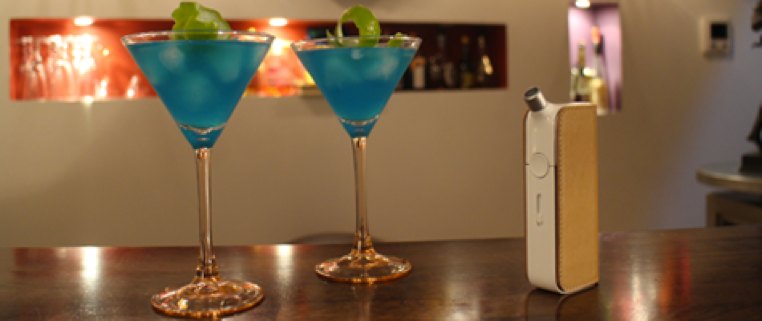 Automatic mode
Enovap is connected to an app in Bluetooth Low Energy technology. This allows you to analyse your habbits and anticipate your needs. The manual mode allows you to learn more and more over your nicotine needs. You are free to switch to automatic mode after one week of use without smoking regular cigarettes.
In automatic mode, you let Enovap's artificial intelligence do the job for you! Enovap delivers you the right concentration at each time of the day and is able to gradually reduce your nicotine intake day after day and in a smart way.
Reduce your nicotine intake day after day and in a smart way. You are still able to manage the amount of vapour without influencing on the nicotine concentration. You remain free to switch back to manual mode and the more you use it, the smarter it gets !
Custom your own Enovap
You can custom your Enovap, choose a French made leather cover in various colors : White, maroon, black, orange, blue and much more to come!

It has never been as easy to use
An unique intuitive user experience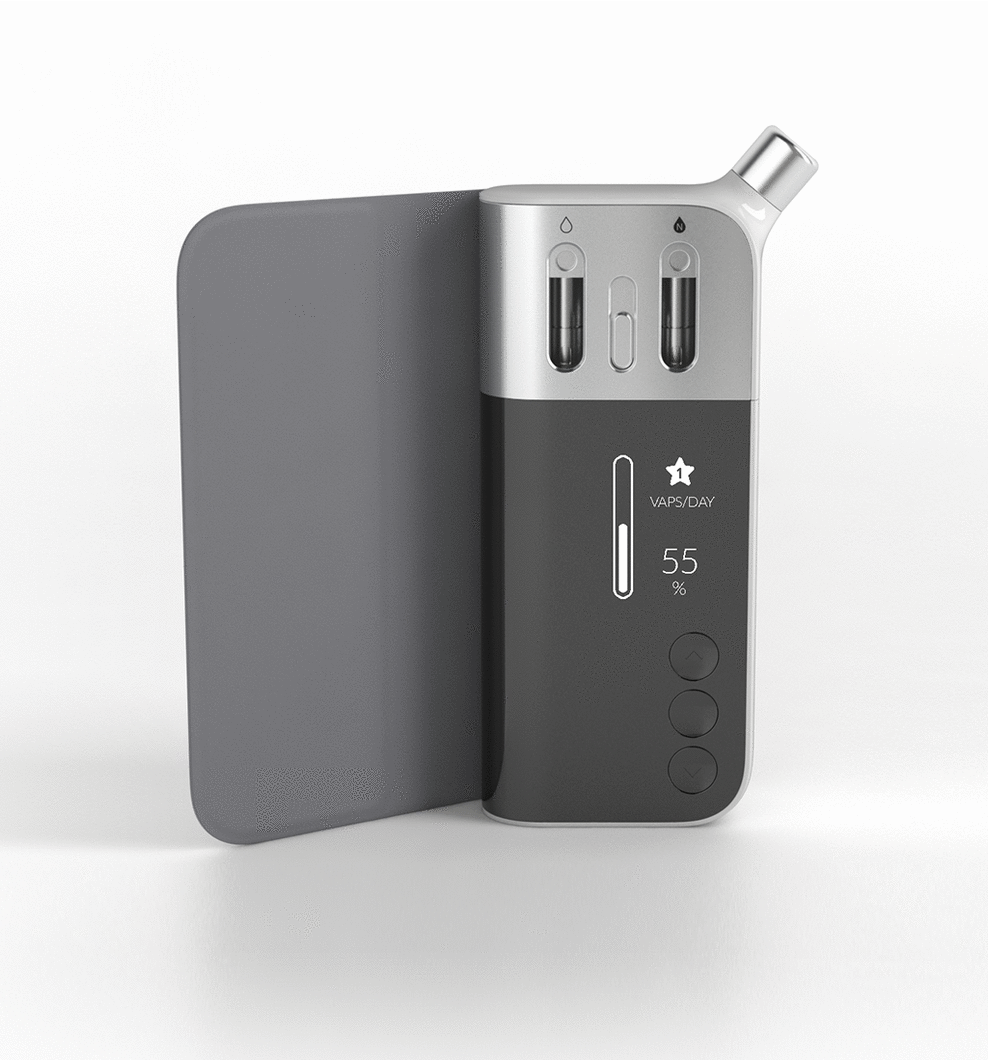 The OLED screen of your Enovap allows you to select both the nicotine concentration(in mg/mL) and the amount of vapor(in %). It also lets you swtich from manual to automatic mode and follow your three last challenges ! You can also set these on you app and discover a wonderfull experience !
A secured refill system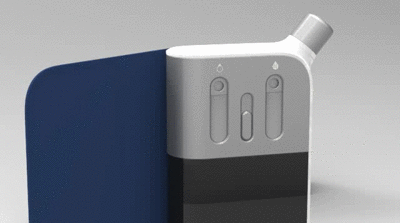 We have made the refill as simple as that! A patented technology made it child-proof and leak-proof and allows you to open the two holes in order to refill your tank with your favourite juices! The double tank can contain 2 x 2 mL so a total capacity up to 4mL
Make the leap and join us to analyse your consumption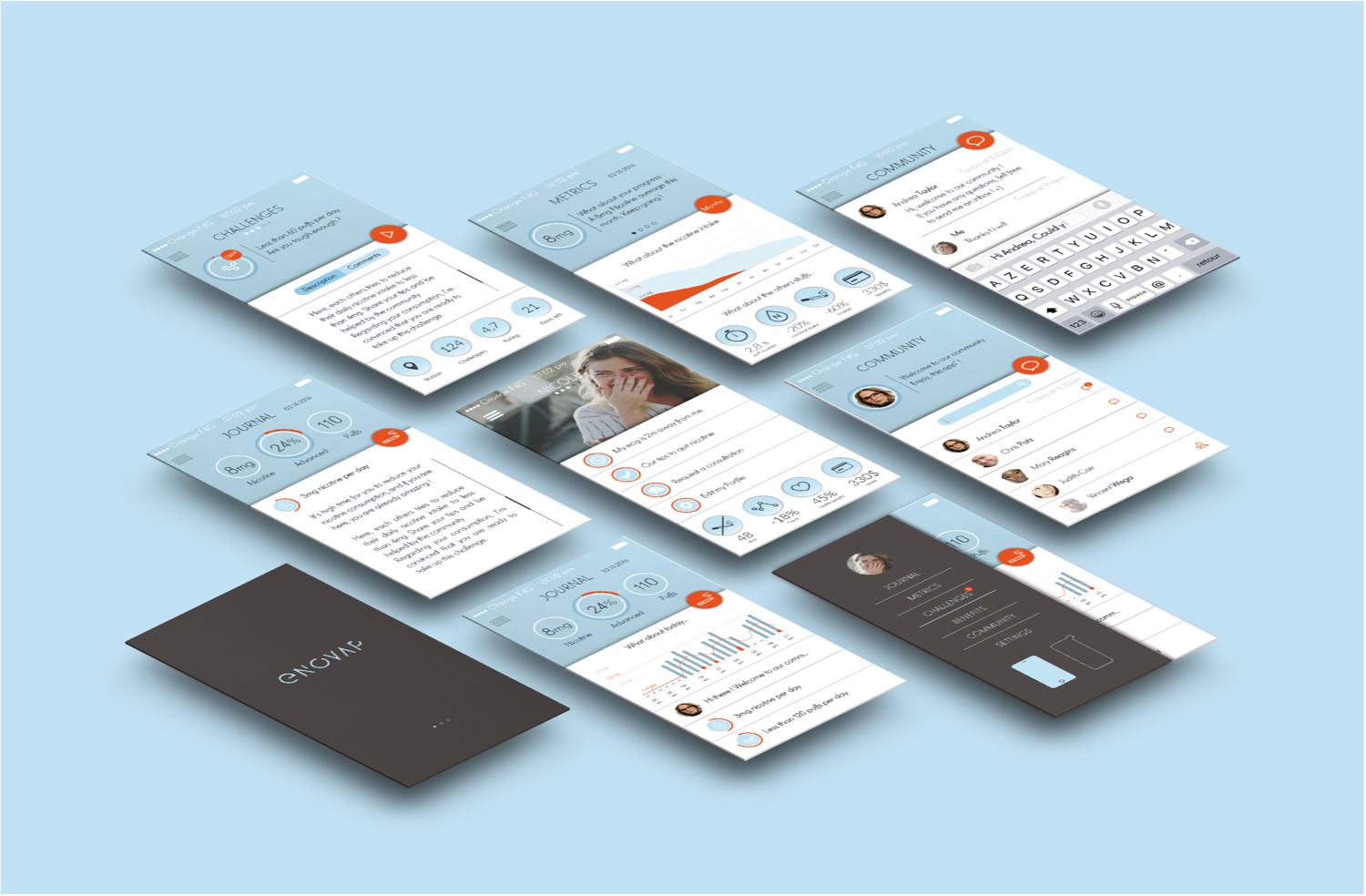 Connected objects are made do make you life simpler. Enovap also is, thank's to an intuitive user experience! You will also be able to interact with a community of users and other experts. Set your personal goals and challenge your addiction to decrease your consumption !
French made technology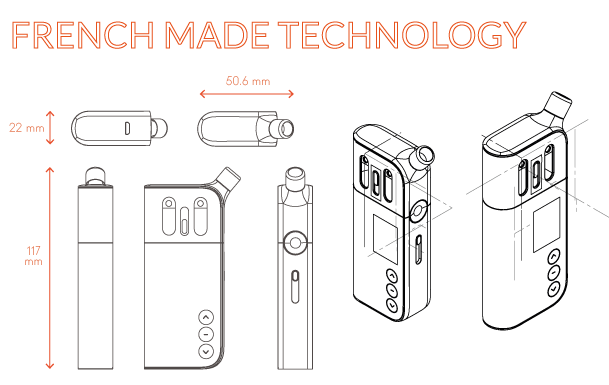 What you get if you order Enovap today

Technical specifications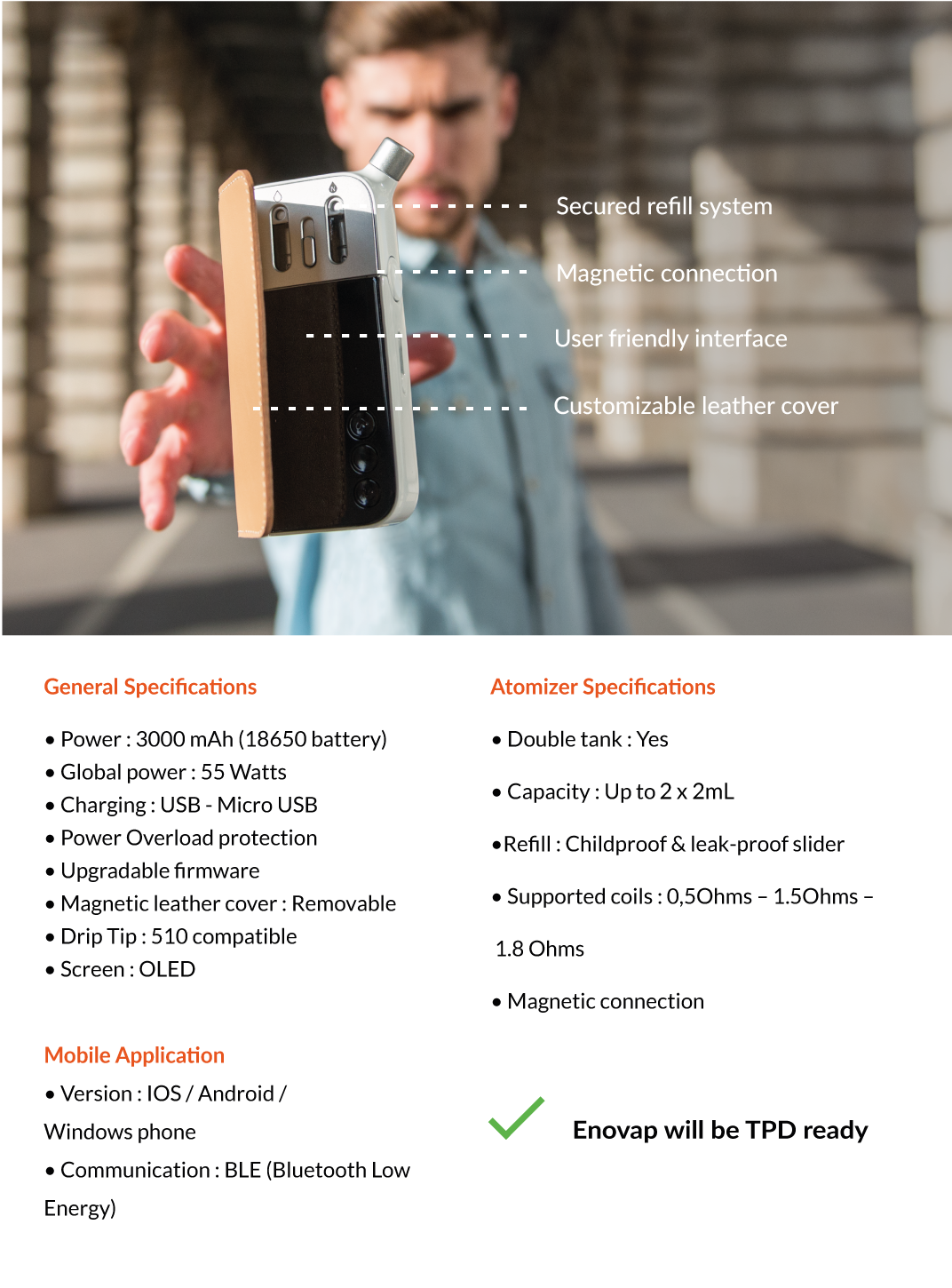 Describe your project goal
Timeline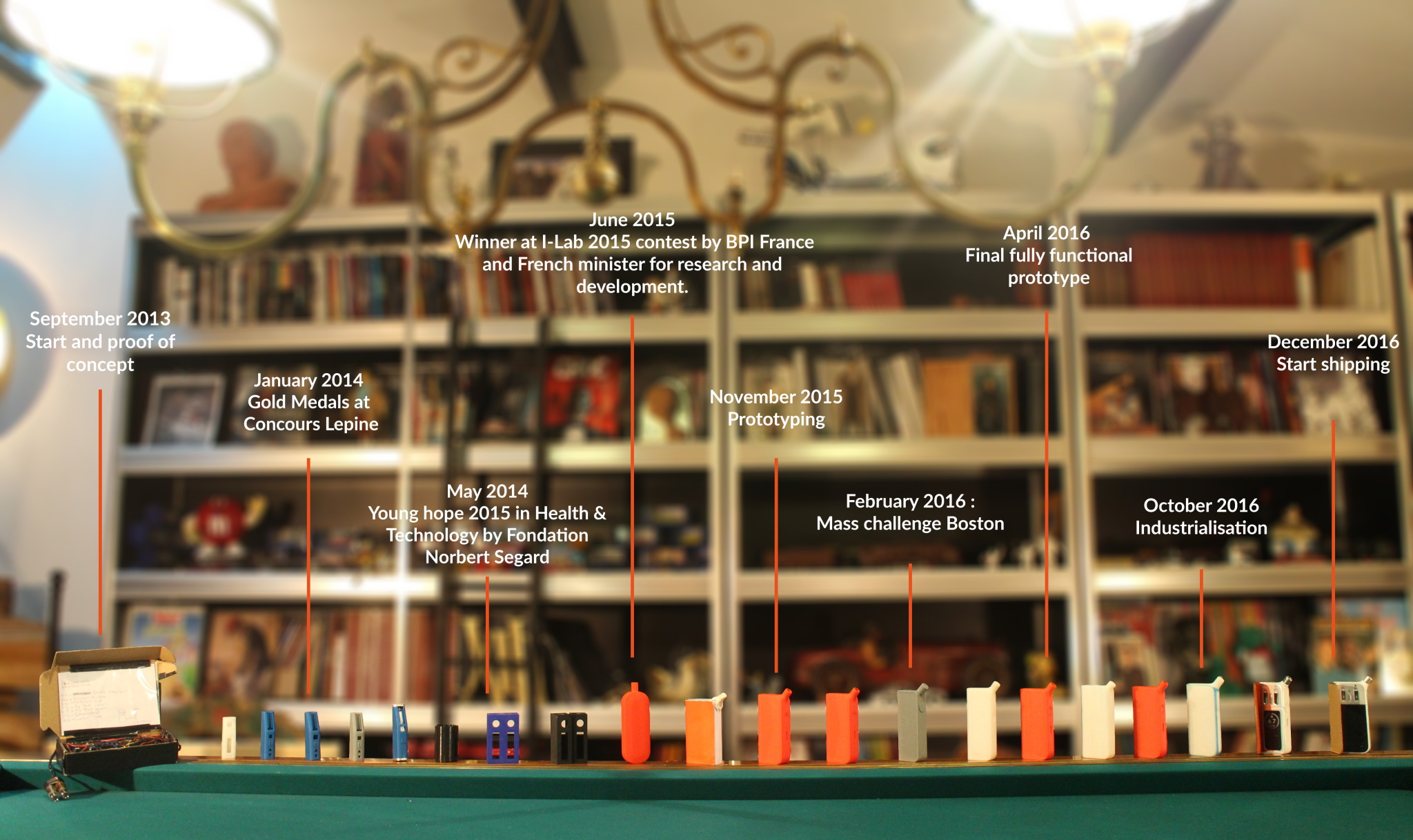 The team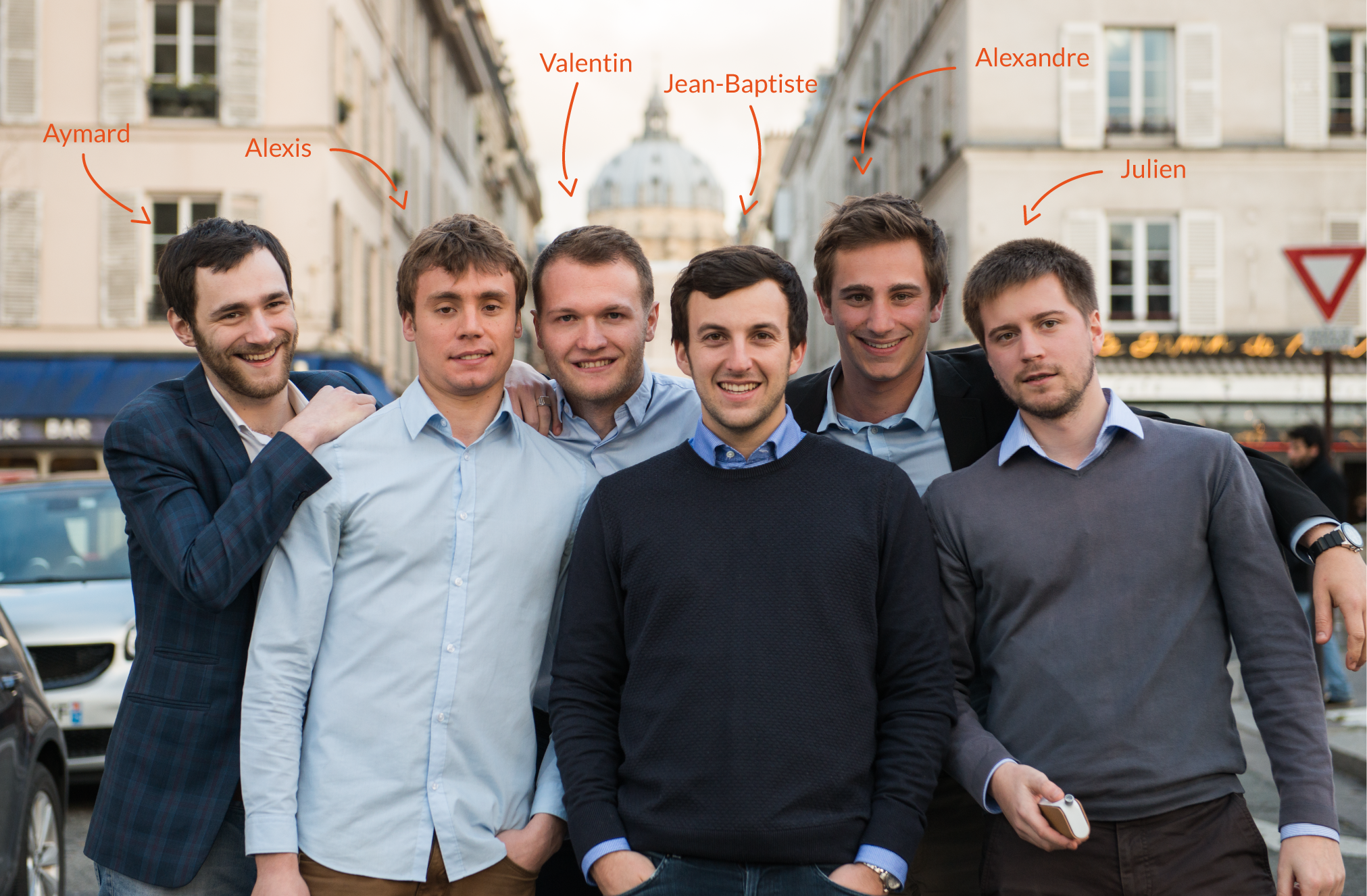 We are a team of experienced engineers and entrepreneurs convinced that vaping is the biggest health revolution of the 21st century.
We used to be smokers but now we vape!
We are passionate about using IOT in health to create new exciting solutions. The team has now been working on Enovap for more that 2 years.
The story
The consequences of tobacco are critical. It is the only consumer good responsible for the death of half of it's consumers. Each year 6 million people die because of tobacco side effects. This represents 700 000 death/year in Europe, 70 000 in France and it's 22 times the number of deaths caused by car accidents in that country. Mixing health and technology together helped us better understand the user needs in order to offer a unique vaping experience.
Perks






Strechgoal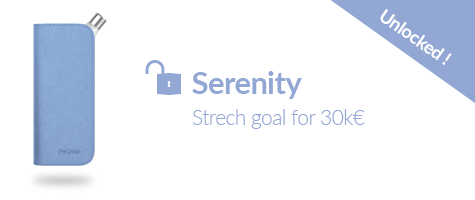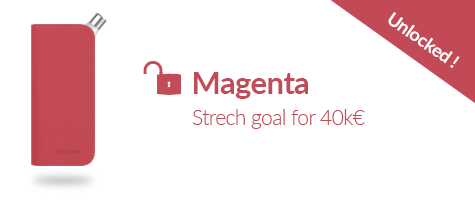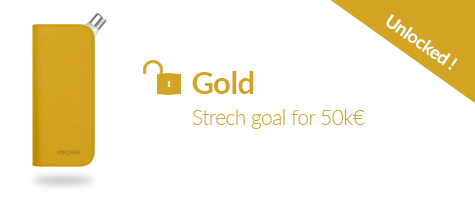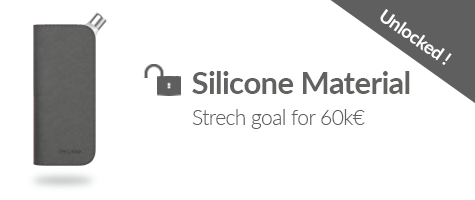 F.A.Q
How to take care of your Enovap?
You can clean up your Enovap as other electronic cigarettes. Here is the procedure:
Always clean up you driptip(mouth piece) by washing it with clear water. You can do this step everyday to ensure a better vaping experience.
Cleaning up the double tank after every refill is not mandatory. However, don't hesitate to wash the double tank with clear water once a week.

Always check that there is no obstruction in the micro USB port before charging.

How long does the battery last?
Enovap is equipped with a 3000 mAh, 18650 battery to last all day long. The battery level is displayed on the OLED screen. You can charge your Enovap on a regular blog our through a USB port. You are able to use you Enovap while charging.
What e-liquid/juices can I use with Enovap?
Enovap does not work with prefilled cartridges and will be TPD READY. The company is involved in the AFNOR e-cig regulation process. With Enovap you are free to select your favorite juices to fill the 2 tanks. We recommend that you use the same PG/VG ration for both tanks, even better if you put the same juice in 2 different concentrations. We made a secured refill system that is childproof and leak-proof.
How can I change the nicotine concentration?
To use HIT CONTROL you just have to use the upper and lower button located on the screen to adjust your perfect concentration. In this manner, while in manual mode you are able to manage the nicotine concentration. While in automatic mode, just let Enovap do the job for you and vaporize the right concentration depending on the time of the day. You remain free to switch from auto to manual when you want.
• What is Bluetooth Low Energy?
Bluetooth Low Energy uses the Bluetooth connectivity by consuming less energy. It allows the data to be transferred both from your Enovap to your smartphone and the opposite way.
Can I change my cover?
Of course you can! At Enovap, we want to offer you as much as possibilities as you want to make you device unique! That's why you can swap covers depending on your mood or day! Discover a bench of different customization on
www.enovap.com
. Leather covers are French hand-made.
How can I contact the Enovap team?
We focused on making Enovap as simple as possible. If ever you feel the need to contact us, you can reach us at
contact@enovap.com
What kind of coils can I use in my Enovap?
Enovap is compatible with Kangertech OCC & SOCC coils in 0.5 - 1.5 - 1.8ohms. You can also put any other Kangertech compatible coil on market in these ohms.
What's in the Enovap kit?
A standard Enovap kit includes the Enovap device(battery + atomizer included) - a cover - a charging cable - 2x compatible Kangertech coils
How to take care of your Enovap?

You can clean up your Enovap as other electronic cigarettes. Here is the procedure:

Always clean up you driptip(mouth piece) by washing it with clear water. You can do this step everyday to ensure a better vaping experience.
Cleaning up the double tank after every refill is not mandatory. However, don't hesitate to wash the double tank with clear water once a week.

Always check that there is no obstruction in the micro USB port before charging.


How long does the battery last?

Enovap is equipped with a 3000 mAh, 18650 battery to last all day long. The battery level is displayed on the OLED screen. You can charge your Enovap on a regular blog our through a USB port. You are able to use you Enovap while charging.

What e-liquid/juices can I use with Enovap?

Enovap does not work with prefilled cartridges and will be TPD READY. The company is involved in the AFNOR e-cig regulation process. With Enovap you are free to select your favorite juices to fill the 2 tanks. We recommend that you use the same PG/VG ration for both tanks, even better if you put the same juice in 2 different concentrations. We made a secured refill system that is childproof and leak-proof.

How can I change the nicotine concentration?

To use HIT CONTROL you just have to use the upper and lower button located on the screen to adjust your perfect concentration. In this manner, while in manual mode you are able to manage the nicotine concentration. While in automatic mode, just let Enovap do the job for you and vaporize the right concentration depending on the time of the day. You remain free to switch from auto to manual when you want.

What is Bluetooth Low Energy?

Bluetooth Low Energy uses the Bluetooth connectivity by consuming less energy. It allows the data to be transferred both from your Enovap to your smartphone and the opposite way.

Can I change my cover?

Of course you can! At Enovap, we want to offer you as much as possibilities as you want to make you device unique! That's why you can swap covers depending on your mood or day! Discover a bench of different customization on

www.enovap.com

. Leather covers are French hand-made.

How can I contact the Enovap team?

We focused on making Enovap as simple as possible. If ever you feel the need to contact us, you can reach us at

contact@enovap.com

What kind of coils can I use in my Enovap?

Enovap is compatible with Kangertech OCC & SOCC coils in 0.5 - 1.5 - 1.8ohms. You can also put any other Kangertech compatible coil on market in these ohms.

What's in the Enovap kit?

A standard Enovap kit includes the Enovap device(battery + atomizer included) - a cover - a charging cable - 2x compatible Kangertech coils